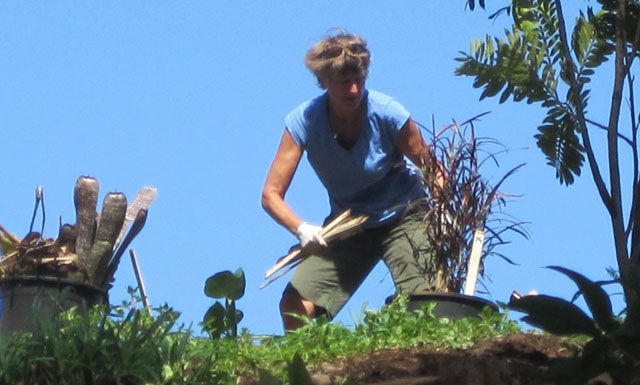 Community gardening
Reforestation
Cooperative living
Conservation
Responsible land use
Community involvement
Can you imagine a fully recyclable house that creates no additional CO2 and can last 3 times longer then a traditionally built home? This is one way in which "The House the Future Needs Now" aims to create the kind of future we desire by planting its seeds today.
Sustainable building practice includes calculating the amount of CO2 created by the building and the operation of the home, and taking responsibility for removing at least an equal amount of CO2 from the air.
This is sometimes done by buying carbon offset credits, e.g. by investing in programs that remove CO2 from the air by planting forests of carbon-sequestering trees. (See http://reforestthetropics.org) The Hi'ilani EcoHouse's operational efficiency, coupled with planned reforestation and conservation of the home's surrounding acreage, will enable the project to function as its own carbon-offset program, absorbing more carbon dioxide than it generates over time.
Cabinetry in the house was made of bamboo, sustainably grown or salvaged woods, and wood that was reused from the scaffolding. The concrete walls are finished Soycrete concrete stains, stucco, and beautiful lime paints and marble plaster from Terre du Monde Decor. Floors are finished in cork, bamboo and Marmoleum flooring, all made from renewable materials. Lighting systems employ the latest LED technology and locally made ceramic sconces and pendants. Upholstered furniture created for the home will features long-lasting and recyclable Sunbrella fabrics. Local artists are collaborating to adorn fabric covered cabinet doors and pillows with printed patterns.